Bank closures are in the news, which prompted us to address this topic for our customers and community.
Freedom Bank does NOT hold an investment portfolio, and therefore we are not impacted by the strain faced by the financial institutions currently under scrutiny. Our institution is well capitalized and has plenty of accessible liquidity.
Freedom Bank operates under an entirely different business model than the institutions that were recently closed. Our relationship-based business model is rooted in building long-term trust with our deposit and loan customers. Our method of investment is in our local economy via our loan portfolio. We are a small business ourselves, and we take pride in serving the unique needs of our customers and community. Freedom Bank is in it for the long haul to serve the needs of those who count on us for financial stability and prosperity.
The information below is publicly available information about Freedom Bank's balance sheet, specifically regarding investments. We are well positioned to meet the banking needs of our customers.
If you have questions or concerns, please stop by or call 406-892-1776 to speak with an Officer or Don Bennett, Freedom Bank President.
Here are some helpful links: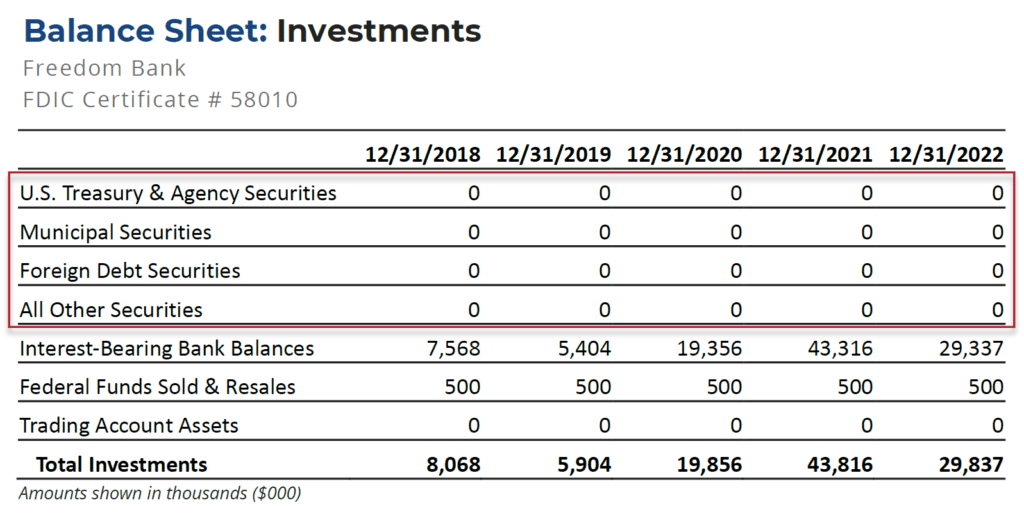 Source: Federal Financial Institutions Examination Council Central Data Repository's Public Data Distribution
https://cdr.ffiec.gov/