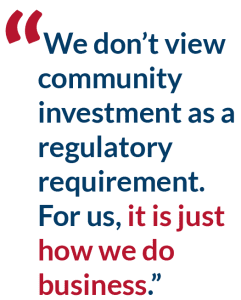 Freedom Bank received the highest possible rating for our performance in the Community Reinvestment Act during the most recent examination by the FDIC. The Community Reinvestment Act of 1977 requires federally insured depository institutions to support the borrowing needs of the communities where they do business, including low- and moderate-income areas.
The "Outstanding" rating is based on Freedom Bank's performance under the lending, investment, and service tests. These tests examine mortgage, small business, and community development lending, community development investments, and community development services in the communities a bank serves.
Freedom Bank was recognized in these key areas:
90.9% of home mortgage loans and small business loans, by number, were made to borrowers located in Flathead County.
82.8% of small business loans were made to businesses with less than $1 million in Gross Annual Revenues, demonstrating Freedom Bank's commitment to meeting the small business credit needs of Flathead County.
Good distribution of lending to customers of different income levels and business customers of different sizes.
"We don't view community investment as a regulatory requirement," says Freedom Bank President Don Bennett. "For us, it is just how we do business. Columbia Falls believed in us when we opened our doors as a single-wide trailer in 2005 and we work hard every day to return the favor."
Just like many of our customers, Freedom Bank is a small business. We consider our small size and local character to be our core strengths. Bennett adds, "Freedom Bank remains committed to the continued vitality and successes of our customers, no matter where they are at in their financial journey."
If you want the money you deposit at a bank to stay local, you can count on Freedom Bank. Give us a call or stop in today to learn more about what we offer. We want to be your bank!