The first recipient of the Freedom Bank Hometown Hero Award is Kelly Hamilton.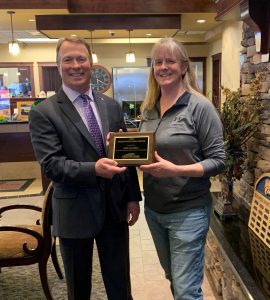 Kelly Hamilton works fulltime for Weyerhaeuser and is a 'twisted tails' member of the Columbia Falls Lions Club. She graduated from Columbia Falls High School and currently lives in Columbia Falls. Kelly is very active serving the community and Flathead Valley. She is involved in numerous nonprofit programs. Recently she ran the largest Toys for Tots drive this past Christmas. With more kids in need due to COVID, she exceeded the goal for the drive and did it with more volunteers than in the past. "The volunteers came out of the woodwork to help," she stated. She has been volunteering all of her life and is well known in the Valley for her services over the years. Some of the nonprofit programs she has been involved with are Fire Relief, Gap Fillers, Canyon Kids, the local Food Bank, and the Lions Club. The next time you see her helping our community, tell her thanks for everything she is doing.
Each winner of the Hometown Hero award selects a nonprofit to receive $500 on their behalf. Kelly has selected the Lions Club, specifically their Backpack Program to receive the prize money. If you would like to contribute to the cause, please contact the Lions Club for more information. You can read more about Kelly in the March 10th issue of the Hungry Horse News.
Congratulations Kelly!
The Hometown Hero award will continue running through January 2022. If you know of someone that is going out of their way, above and beyond expectations, cultivating our community and making a positive impact, please nominate them for the Hometown Hero Award. Each nomination is a true testament of the beauty in our community and demonstrates the impact individuals have on our families, friends, and neighborhoods. If the individual you nominated did not win this month, we encourage you to nominate them again!